DFPS Base and Service Board (A3043)
© 2022 Kevan Hashemi, Open Source Instruments Inc.
Contents
Description
Versions
Design
Development
Description
[02-MAY-22] The Direct Fiber Positioning System (DFPS) Base and Service Board (A3043) consists of two square circuit boards connected by three flex cables. One square is the base board upon which we mount fiber positioners. It is 3.2 mm thick with counter-bored holes to accommodate the positioner bases and two mounting screws that fasten the base board to the base plate. The other square is the service board into which we plug one DFPS Controller Board (A3045A) per fiber positioner on the base board. The service board plugs into the bottom side of the DFPS Backplane Board (A3044A).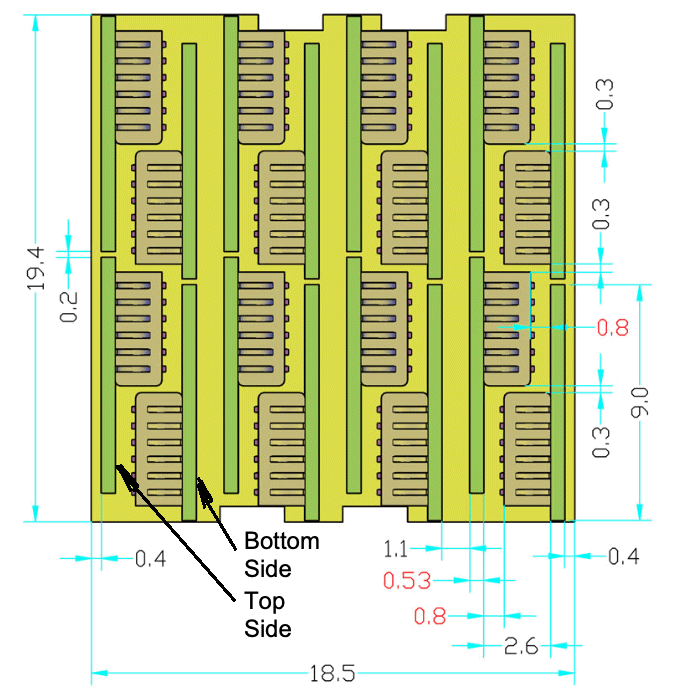 Figure: Drawing of Service Board, Bottom Side.
The base and service boards are roughly 19 mm square to fit inside a 20-mm square envelope. The bottom side of the service board will provide connectors as shown below.The sixteen connectors each mate with a twelve-way female connector on a controller board.
Versions
The following versions of the DFPS Base and Service Board (A3043) exist.
| Version | Actuator | Geometry | Controller | Comment |
| --- | --- | --- | --- | --- |
| A | Any with 3.8-mm OD actuator | 4 × 4 on 5-mm grid | A3045A | For sixteen-fiber cells. |
Table: Versions of the DFPS Base and Service Board (A3043).
Design
A78557.pdf: Twelve-way, male, dual-row, vertical, connector for service boards.

Development